SLNameWatch.com — Get The Last Name You Want
Updated 2010-11-20 13:09:24 -0000 UTC
This is a service of SLNameWatch.com, a website that tracks statistics about Second Life® last name usage. What is Second Life? Second Life account names consist of a free-form first name plus a last name you select from a list that Linden Lab® controls. However, there are alternative registration portals which sometimes offer exclusive names to the public. This is a catalog of what names are available at each portal, including the official registration page: Join Now. To see this list in a sortable table along with usage counts and other information, visit the SLNameWatch.com home page. This catalog is generated by observation, not by coordination or affiliation with Linden Lab® or any of the 3rd party registration portals shown. Currently, this page is recompiled once per hour. Do you know of a 3rd-party RegAPI system that is open to the public but not listed here? Please contact adam -at- SLNameWatch.com
In the registration form, please enter Nicolas Biddle as the person who referred you to Second Life. Thanks!
[ Sort Alphabetically ] [ Sort By Availability ]

© 2011 SLNameWatch.com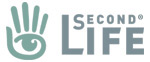 Second Life® and Linden Lab® are trademarks or registered trademarks of Linden Research, Inc. All rights reserved. No infringement is intended.